You dream it, we build it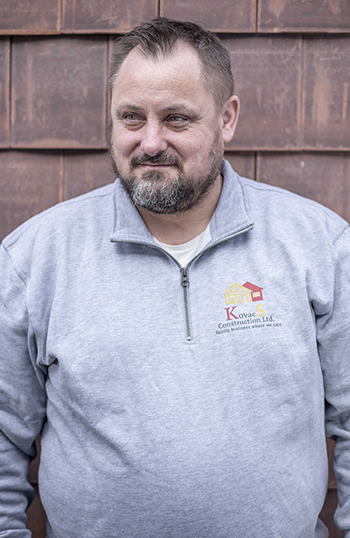 Kovacs Construction LTD.
Kovacs Construction Ltd. is an experienced family owned and operated business where we offer quality services to local London clients at reasonable prices. Our courteous Construction Company staff have the professional tools and experience necessary to help with all your needs. Please contact us with questions and ideas to build your dreams into reality.
Laszlo Kovacs
Founder
Our Services
At Kovacs Construction we employ talented builders and engineers deliver unrivalled building services solutions. Our reputation for innovative design, backed up with strong delivery on time and on budget, underpins our ability to create long-standing relationships with our clients.
More Info
Featured Projects
PROFESSIONAL – DEDICATED – TRUSTWORTHY - INNOVATIVE
GOOD VALUE - ON TIME
COMPREHENSIVE - TOP QUALITY
Why Us
Best Offers
Providing clients a complete service package, Kovacs Construction Ltd. guides clients through every step of the building process, from design to material discussion, budget to site arrangement. They consider the details of a project from the start-up, preparing the way for a smooth and positive construction experience
Fair Prices
We provide free estimates. Choosing Kovacs Construction Ltd. means that you'll benefit from top services that are also affordable, with a high return on investment. We work within your budget to ensure you get what you want by using cost-effective strategies
Quality
Kovacs Construction Ltd. prides themselves with having a strong dedication to the principle that a quality product is its own best form of advertising. Their employees are the best craftsman in the area. Quality construction continues after the close of the project
On Time
Yes, you read that right. Our promise is that we will complete your project on time and on budget. This is backed by our guarantee
Our Clients
Say about us
Kovacs Construction renovated a ground floor flat for us. Ben is reliable, does what he says he will and goes the extra mile to ensure that things go as smoothly as possible. His team are really hardworking, professional and efficient. I would definitely recommend Kovacs for big and small projects, it was a pleasure to work with them.
I would have no hesitation in recommending Kovacs Construction Ltd.
They have now carried out two lots of home improvements for me this year. Back in January they fitted a new bathroom for me, laid new flooring throughout, removed an old built-in wardrobe and built a new one, decorated throughout, fitted a new mantelpiece... more recently they rewired, fitted new lights, fitted new double glazing, damp proofed and re-plastered one problematic wall, wall-mounted a couple of TVs for me, built a custom shelving unit for my front room and hung some pictures.
Next job will be to fit a new kitchen!
They are good to work with and are competitively priced.
We hired Ben (of Kovacs Construction) as our contractor for a ground floor extension and an internal reconfiguration, which included the removal of supporting walls. Our flat is a ground floor flat in a large Victorian house in Forest Hill, South East London.
This project was completed in coordination with a Project Manager (Brolly Design), which helped provide the oversight for the project.
For such an extensive project, it has been remarkably low stress and completed on time and to the budget agreed at the beginning of the project.
Ben has been excellent. He was in regular contact throughout the project, providing regular updates and photos via Whatsapp. Ben accommodated any changes that we asked for and were completed without any complaint. Ben allowed us to visit property whenever we liked to check on its progress.
Ben communicated any delays and actually made up the time on different areas of the project. Unfortunately, there have been some delays with snagging, but some of these delays can be attributed to external suppliers.
Ben was receptive to issues and queries from neighbours (both in the freehold property and in adjacent properties) ensuring that these were swiftly rectified where possible.
The finish and workmanship has been top quality and has transformed the way that we live. Ben has a great eye for detail and can really visualise the finished project.
Overall, we would highly recommend Kovacs Construction for any future project. In fact, we have already recommended them to friends.
We commissioned Kovacs Construction for some works in our garden - we wanted artificial grass and paving stones at the back of the garden. They needed to remove quite a bit of plants and Bence and his team were very professional throughout the whole two weeks. They were quick, very friendly and they did a very neat job. We love our garden and we can now use it much more often than ever before!
Ben and his team were exceptional throughout the entire process of our bathroom renovation. Easy to communicate with, and the guys on the job were professional and lovely to deal with throughout. We are impressed with the high quality of work done and the attention to detail. Our bathroom was not a typical design or layout, and Ben gave extremely helpful advice on how to deal with tricky issues. We highly recommend Kovacs Construction and will be using them again for any works in the future.

Kovacs Construction did a great job - top quality tiling, completed on time and left the kitchen immaculate. Many thanks, Ben and team.